We often wonder what to choose when it comes to choosing a musical instrument. Many music lovers are fond of aspiring their musical journey on different instruments. Some are deeply in love with guitars, some with ukulele, some with flute, or some with piano – but when it comes to floating with tune melody, most aspirants focus on learning violin—the foremost choice of every stringed music lover.
Why Violin?
Violin – one of the most well-known and popular stringed instruments nowadays. The instrument offers several positive advantages to any violin lover, especially children. Yes! I'm talking about Violin – the sophisticated and fascinating musical instrument that attracts children to adults. Children often want to explore the features of a violin. They want to traverse the origin of the violin. Violin lessons teach extraordinary skills to the students that deeply nourish them for a better student.
This instrument has got so many reputations for being one of the world's most beloved musical instruments and offers a unique journey. Well, violin lessons that are specially crafted for kids teach extraordinary skills that deeply nourish them for a better result. Now, in this content, we will learn some different things that a violin offers.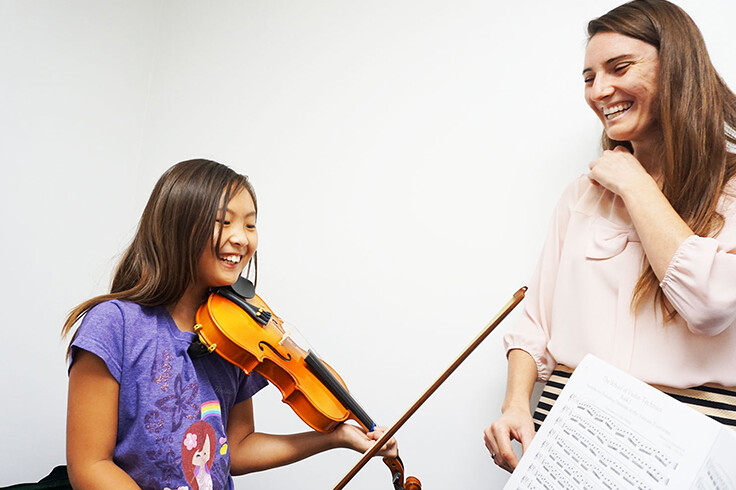 Special benefits for child aspirant
A child typically becomes fascinated between the ages of 7 to 10, although the period varies a lot. If you go through deep-down research, you can certainly explore that playing and learning have some essential advantages that make the little aspirants more durable and stable. If you notice that your child has a passion for holding some stringed instrument, then don't wait for some substitute option before the passion is gone! The child keeps a sensitive and frequent mind that tends to change the decision very often. Because learning and playing violin is something that your child could stimulate herself within the proper violin classes for kids.
Knowing to play is a wonderful thing to adopt, but you should be aware of all the positive and negative sides of the learnings before getting into this. However, violin lessons have nothing to do with any negative, but you can get the sunshine! Many aspirants think that learning violin is a pretty challenging or daunting task to do. Still, I will assure you that once you accept the challenge and start learning the instrument, you will feel the confidence to gain the achievement all of a sudden, and you will feel encouraging.
You need to go through some essential features that violin offers, and experts suggest that knowing these fields is quite mandatory for every beginner.
Some essential features you need to check out before buying a beginner violin:
A reasonable quality instrument that built with solid wood and has a carved top
It must have a decent tuning peg that stays in tune.
Check the four tuners, which must be adequate and proper for your kid's violin
It should include the accessories that need to get started.
At the beginning of each violin lesson for kids, kids learn the musical instrument's essential parts. If you have a passion for teaching the basic violin things, you can start with these fundamental things and let them know and understand the instrument before entering into a class.
Pegbox
Scroll
Neck and fingerboard
Strings
Body
F-holes
Bridge
Tailpiece
Chin Rest
If you can play the instrument confidently, nothing could make you stop achieving your dream journey to be a fantastic violin player. Have you ever thought of the fact that if someone asks you, "If you could pick from any instrument and instantly know how to play it, what would you pick?" I can guess, your answer must be: the violin, isn't it?
If you are such parents obsessed with this specific stringed instrument, this is the best time to indulge in the child's violin session. Who doesn't want to be surrounded by a romantic aura of mystique? Everyone, I believe. Thus, violin would be the most preferable instrument and being among the top choices. But many parents think that the violin could be a complex instrument for their child. But the fact is any stringed instrument is challenging initially, but if your child can start their beautiful career with an outstanding instrument, then why not start with this?
However, you might be surprised to discover many lifelong benefits and excellence for adult beginners and kids. Learning to play the violin requires having the right tools and the right direction.
Let's explore what those are!
Mental benefits of playing the violin for children
"The best way to succeed is to have a specific Intent, a clear vision, a Plan of Action, and the ability to maintain Clarity." – Steve Maraboli, Life, The Truth.
Developing the inner skills along with short term and long-term memory
When learning a new violin piece, a kid tends to develop and try their best to adopt the skills. Violin lessons are the appropriate platform that enhances the skills and assists in memorizing your kid's techniques. If your kid has a great teacher to take lessons with, she might help him to remember the rhythms, notes. A small piece of sheet music may help to get the techniques properly. It also helps to bring the melody into reality.
This technique also helps to smooth sound, and repeat transforms help to execute short-term memory into long-term memory. Children are perfect for absorbing the memorized notes and outlines. Therefore, the memorizing technique is getting better, and the memory goes deep into their mind. Students eventually learn to remember the fundamental skills, and this helps to increase productivity.
Improvement of verbal functioning
The essential and feature of violin lessons Singapore especially designed for kids. Your children can learn words faster by ear, and these words also go deep into their minds. As a result, your kid gets a firm thought and compact opinion in a verbal manner.
Enhanced Academic Skills
Violin is such a helpful musical instrument that offers the reduction of mental stress and positive effects on children. It is evident that kids who are passionate about learning music, especially violin. There is a relationship between the kids who sign up for violin lessons and their grades in school. Music has the power to eternally connect with the soul of an aspirant. A violin always helps to strengthen the ability to enhance academic performance, as it helps to memorize and improvise things related to education. When your child takes lessons and follows a specific routine schedule of practicing and rehearsing, he inherits his memory. So, violin is indirectly advancing your child towards academics.
Violin lessons for kids enlighten these facts to upgrade your child into a severe learner and help them to optimize the most extraordinary musical future.
Learn a foreign language quickly and successfully
The benefit of learning the violin is: your kid gets familiarized with different languages worldwide. The tunes and melodies are engraved with additional foreign languages, and these would be a great way to learn and adapt the languages. They don't even face the problem of performing without their native language on stage!
Final Thoughts
When you or your kid learns to play a musical instrument – it is a great way to enhance your child for a better future. Through violin lessons Singapore, your kid will gain the ultimate improvement of attention span and patience. Violin is something that most aspirants find challenging to play and learn. That's why they want to start practicing it as children. However, with proper enhancement and learning opportunities, they get all the expertise by the time!