So now that you have already decided to purchase a violin as you are going for violin lessons for beginners, you must know that this is a crucial investment and you don't want to make a mistake and regret it later. Moreover, since it is your hard-earned money, you will always look for the best choices for practice.
At Stradivari Strings, we have some amazing experts who have the efficacy to understand the need for choosing a good instrument. We understand how daunting the process would be to find the best in a market that has end number of choices. Not only buying a violin is a matter of question, but it is not than that as you have to have knowledge of the quality, size, your level, and ambitions.
Therefore today, out of tune, we will have a look at the comprehensive guide that would discuss bout the things that you need to check while you are shopping violin.
Do I need to have knowledge of the basics of violin beforehand?
Prior to investing money, the best choice is always to have knowledge of the violin. Have a look at the image for more understanding: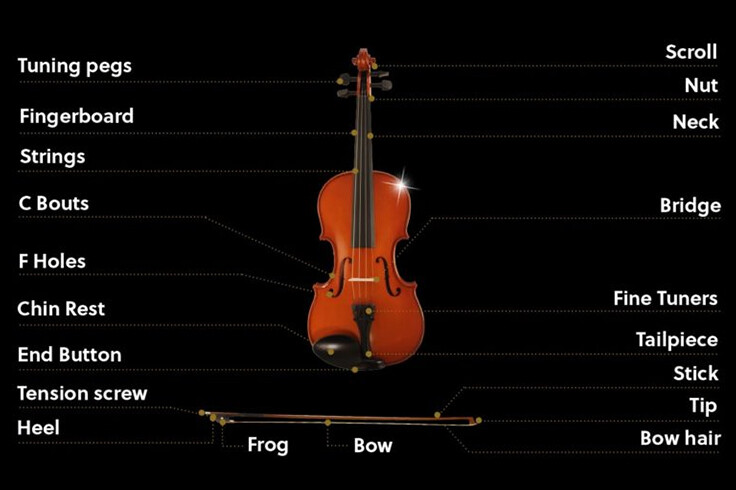 Tuning pegs:
The tuning pegs available in a violin must have a smooth operation. These must-have easy turning ability and must not slip easily. This is because it will offer something out of the tune. For any type of player, this can be a nuisance, and especially for beginners who dont have much knowledge might require tuning the instrument. This can discourage them.
What are the violin pegs made of? Make sure that it has ebony fittings as it ensures smooth turning and hard-wearing. Boxwood is another option; however, it is good for cosmetic reasons. Most of the time, Rosewood is used as it is known for offering unmatched protection.
Fingerboard and Bridge:
Fingerboard and bridge must have a proper fitting. When you check the violin from its sides, the strings of the violin must have a decent height, which makes it easy to play any note. If you find the distance between the board and strings is high, it might become a lot difficult to actually press the strings down. You will also face difficulties jumping from one note to another. The bridge must be erect along its feet needs to be fitted close to the body.
When you are checking this, you must look for the strings which pass over the bridge and nuts as they must have even spacing in between.
Another most common recommendation is to snake sure that the fingerboard isn't made from softwood that has black paint, which can be generally seen on low-quality instruments.
What should I focus on its construction?
Whenever it is about an instrument, quality is certainly the top-notch faceted that shows the efficiency and worth of the instrument. You might find end number of models online that are poorly constructed, but an instrument that inherits faults is hard to play, tune, and is impossible to play soothing tunes. This surely will distract beginners and discourage them.
If you have kids and are looking forward to buying a violin for your kid, you should first ask yourself, "What sound will he or she like?" Since you have been staying with them, growing them, and watching them change every day, you will perhaps know even better than they know themselves. Therefore, you have to think of the sound they will like. If you choose to buy a poor quality instrument, it might happen that they will start getting accustomed to it, which will actually hamper their personality. Keeping in mind your budget, it is recommended to choose the best rather than compromising on quality.
 Having a teacher offering violin lessons for beginners can become a lot helpful in finding the right choice for you. You can actually choose an instrument as per your specification and standard. Especially for beginners, a guide can be helpful to find a quality violin.
What is the best size for me?
By now, you certainly have got the knowledge that when it is about the violin, one size fits all is not a good approach.
Violins have different sizes. Its full size is popular as a 4/4 violin that is best for people after the age of 11. Therefore, it is always a good choice to correct the size at first before buying, as comfort is necessary.
¼ is the small size of the violin, which is for kids; however, for smaller kids, ⅛ is the right size. Measure the arm lengthen to decide the size of the instrument. You can simply use a measuring tape for measuring. Generally,  16 inches arm length will need ¼ size, 23 inches arm length needs a full-sized violin. When the arm grows to over 2 inches, the violin requires changes to fit properly.
According to us, the best to choose a violin is by placing the violin like the way you will play. Even when you are someone to take violin lessons for beginners, you must take the violin on your shoulder while choosing. Make sure you start bowing to understand the requirements.
Should I rent or buy a violin?
This is one of the most common questions asked by people while choosing a violin. There is no doubt that buying a violin needs a lot of investment, and therefore a lot of times, it has been seen that buying a violin becomes big stress on the budget.
Moreover, if it is for your kid, you can rent instead of buying. For adults, you have the freedom to choose anything as per your needs.
Bottom Line:
So these are some of the most common things that you need to check when it is about violin lessons in Singapore. Whether it is for a beginner or a pro, there is always a need to buy something that suits your needs and requirements. Make sure that the tune and rhythms are also as per your needs.
Seeking expert guidance, however, can be the best choice for such investment rather than experimenting and regretting. Therefore make sure you check this and seek help from experts to buy a good violin.